Heirloom Biographies
In this program we heard the backstory of some of our favorite heirloom varieties, including a local favorite, the Beaver Dam pepper. After learning the cultural and economic significance these plants have served historically, we discussed the differences between the terms heirloom, hybrid, open pollinated and GMO.
Managing Weeds in the Garden


A weed is a plant that has mastered every survival skill except for learning how to grow in rows. ~Doug Larson
Now that the garden is planted, it is time to talk about weed management. In this program, we covered various techniques to tackle the weeds before they become unmanageable, and what to do when it's time to triage.
This handout includes a link to the slide deck, more resources, and notes for the program!
---
Forcing Bulbs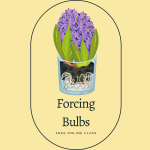 Prepare now for winter blooms! Now is the time when many gardeners are purchasing and planting spring flowering bulbs for early season color. You can enjoy tulips, hyacinths, daffodils, and crocus indoors as a winter flowering treat if you take steps now to prepare the bulbs. We covered bulb selection, planting, cold treatment, and growing.
This handout includes a link to the slide deck and more resources for the program!