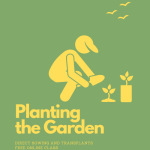 Do you ever get confused deciding which garden seeds should be planted directly in the garden and which ones should be started indoors? In this interactive web-based class, we'll take the mystery out of deciding which seeds to start indoors, when to plant seeds indoors, and techniques to sowing seeds outdoors. We'll also cover key factors you need to consider when adding transplants to your garden.
Presenter: Janell Wehr, Horticulture Educator Extension Marathon County
Cost to attend this program: FREE!
This program is hosted by Marathon County Public Library.
Thursday, April 8th, 2:30-3:30pm: Register Here!
Thursday, April 15th, 7-8pm: Register Here!