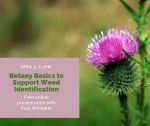 Knowing a weed's life history can help us more effectively choose and time our management strategies.  However, identifying a weed is essential to learning its life history.  This presentation will cover some basics of plant structure, which should help you become better at identifying weeds.  It will also cover some basic aspects of weed life histories, such as dispersal, germination, development, life cycle patterns, and reproduction, which should help you choose the right control strategies for the particular weeds.
Paul is a Professor of Biology at UW Stevens Point at Wausau, with graduate degrees in entomology and a plant sciences minor from UW-Madison.  He has taught botany, ecology, animal biology, entomology, and an interdisciplinary course on organic agriculture.  In addition, he is a board member of the Monk Botanical Gardens in Wausau and chairs its Grounds Committee.  In the summer, he can often be found in his large vegetable garden, admiring the incredible survival and reproductive strategies of weeds and insects before deciding to dispatch them or, in some cases, let them live.  And in the winter, he's usually wishing it were summer!
Cost to attend this program: FREE!
April 5th, 6-7pm: Register Here