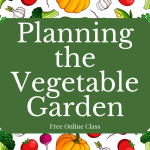 Planning the Vegetable Garden Part 1: Site and Cultivar Selection

Even though the weather is brutal outdoors, gardeners are busy with seed catalogs in hand, planning for the upcoming season. In this interactive web class, participants will learn the required site considerations for gardens, as well as steps needed to create a planting plan. We will cover which crops and cultivars are best suited for Wisconsin gardens, choosing crops that are cost effective, and how to determine the best time to plant.
January 5th 2-3pm- Register Here
January 7th 7-8pm – Register Here
Planning the Vegetable Garden Part 2: Crop Rotation and Mapping the Garden
In this interactive web class, we will cover essential elements when mapping and planting your garden, including crop rotation. Crop rotation is fundamental in preventing and limiting disease and pest issues. Participants will learn how to apply their planting plan to a garden map, keeping in mind spacing, heights, and successive gardening over the seasons.
We're partnering with Marathon County Libraries to provide more opportunities to participate.
Presenter: Janell Wehr, Horticulture Educator Extension Marathon County
Cost to attend this program: FREE!