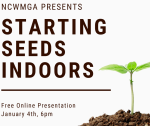 Learn to start seeds indoors
The North Central Wisconsin Master Gardener Association would like to invite the public to join their January program: Starting Seeds Indoors. In this program we will cover everything you will need to start vegetable and flower seeds indoors. We'll discuss things to consider when purchasing seed, containers, and growing media. We will learn how to apply important techniques in the sowing and growing seedlings, and how to successfully plant the seedlings outdoors.
Presenter: Janell Wehr, Horticulture Educator Extension Marathon County
Monday January 4th, 6-7PM
Cost to attend this program: FREE!