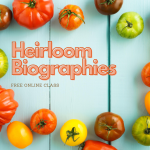 In this interactive online program, we will hear the backstory of some of our favorite heirloom varieties, including a local favorite, the Beaver Dam pepper. After learning the cultural and economic significance these plants have served historically, we'll discuss the differences between the terms heirloom, hybrid, open pollinated and GMO. Class will be conducted via Zoom.
Presenter: Janell Wehr, Horticulture Educator Extension Marathon County
This is a FREE program!
We are partnering with Marathon County Libraries- Rothschild, Mosinee and Wausau to offer more opportunities to participate.
Monday November 9th 2-3PM: Register Here!
Tuesday November 10th 6-7PM: Register Here!
Thursday November 12th 2:30-3:30: Register Here!