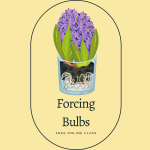 Prepare now for winter blooms! Now is the time when many gardeners are purchasing and planting spring flowering bulbs for early season color. You can enjoy tulips, hyacinths, daffodils, and crocus indoors as a winter flowering treat if you take steps now to prepare the bulbs. We'll cover bulb selection, planting, cold treatment, and growing.
Class will be interactive in nature and held through Zoom, a web based meeting platform.
Presenter: Janell Wehr, Horticulture Educator Extension Marathon County
This is a FREE program!
We are partnering with Marathon County Libraries- Rothschild, Mosinee and Wausau to offer more opportunities to participate.
Thursday October 8th 2:30-3:30PM: Register Here!
Monday October 12th 2-3PM: Register Here!
Monday October 12th 6-7PM: Register Here!