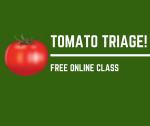 Although tomatoes are an easy and popular vegetable to grow, they can be challenging due to problems of nutrient deficiencies, diseases, fungi or insects. Learn to assess the symptoms and make appropriate treatments. We'll also cover good cultural practices to reduce or eliminate many problems next season.
Presenter: Janell Wehr, Horticulture Educator Extension Marathon County, online via Zoom.
This is a FREE program!
We are partnering with UWSP Continuing Education, the YMCA-The Landing, and the Marathon County Library-Wausau to offer more opportunities to participate.
Tuesday, August 11th, 10-11am: Register Here!
Monday, August 17, 10-11am: Register Here!
Thursday, August 20th, 6:30-7:30pm: Register Here! 
Please email questions to janell.wehr@wisc.edu